A touch of the Red Light culture in LA
You can feel the stress level drop off at the curb as you enter Nova Express and fully expect a waitress to hand you the cannabis and hashish menu. The rhythms are both calming and uplifting. IB Melchior's 1960 classic "The Angry Red Planet" moves across the south wall as gargoyles, octopi and an impressive collection of comic book heroes and villains loom and linger in the background.
Nova Express boasts "The best pizza on earth" but being from New York I have to chuckle just a bit. The "Interplanetary Menu" offers everything from empanadas and bagels with cream cheese, to specialty fruit smoothies and tiramisu. Though clever in design with "Galactic Neutrinos (Planet Earth Sandwiches)" and "Celestial Salads", how good the food is may depend greatly upon your state of mind.
If you long for that next visit to Amsterdam, take a trip on the Nova Express. Unwind your mind and satisfy your munchies but be sure to come prepared, Northern Lights is not on the menu.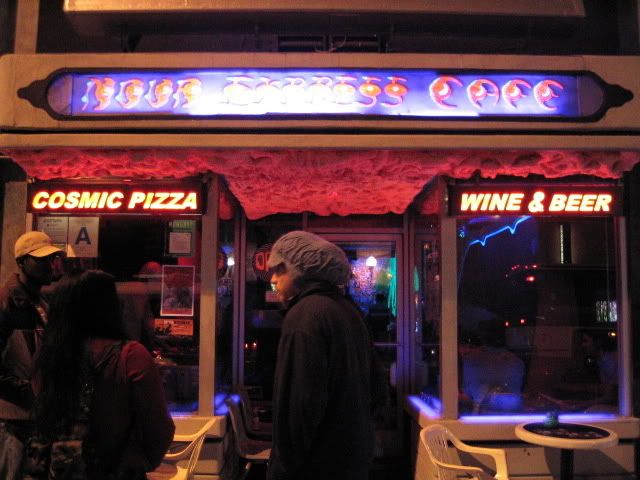 An exit from reality
Funky Art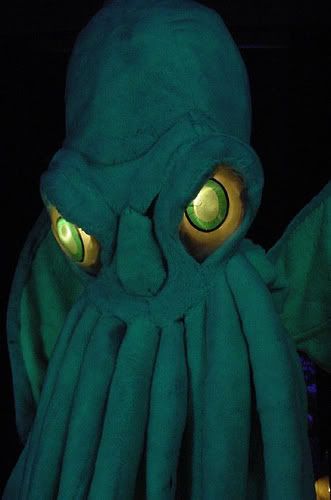 No, that's not the calamari appetizer
Be sure to check out the website for upcoming live music and related events.
http://novaexpresscafe.com/
426 North Fairfax Ave
Los Angeles, CA 90036
(323) 658-7533